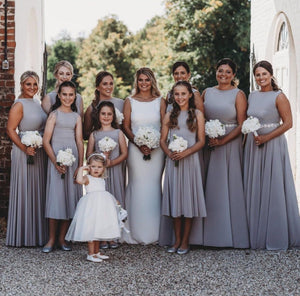 As females, we come in all shapes and sizes. Which is why we have come up with this super flattering Bridesmaid style which accentuates the smallest part of each individual and drapes over all the sins.
This example is of a high scoped neck which complimented the Brides style wedding dress perfectly.
The added Silver Crystal Belt is detachable and finishes the dresses off beautifully.
Example shown in Cloud Grey Premium Jersey